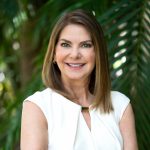 Gail Sagel
Real Estate Advisor
A little bit about me...
Introducing Gail Sagel, a real estate agent who possesses a visionary outlook and a flair for aesthetics. Her passion for helping clients find their dream homes is unmatched, and as a member of the Florida Empire Group at COMPASS real estate, Gail is an expert at connecting buyers and sellers in the Palm Beach area to their ideal properties.
Boasting over two decades of experience in sales, product development, and business growth, Gail is a strategic leader with a wealth of knowledge in branding, marketing, and networking. Her extensive contacts in venture capital and private equity enable her to provide an elevated real estate experience, particularly for luxury and oceanfront properties throughout Palm Beach County and South Florida.
Gail's love for Florida began when she purchased a home on the ocean in Highland Beach in 2013. She also maintains a residence in Manhattan's Upper East Side and has had homes in Westport, Connecticut, and West Hampton, New York. With her talent for networking and her outgoing personality, Gail supports various charitable organizations, including JDRF One Walk, Pink Aid, Susan B. Komen, and the Organization for Autism Research. She is also a lifetime member of Hadassah.
As a mother of twins, Gail's family spans across two cities. Her son works in commercial real estate and resides in Williamsburg, New York, while her daughter works at Google and lives in Manhattan. In her free time, Gail enjoys entertaining, cooking fresh and healthy foods, and staying active by dancing, exercising, playing tennis, pickleball, and golf. She is also an avid reader and a member of her Westport, CT book club. Gail's love for travel has taken her to over 20 countries on three continents, and she plans on exploring even more, with Morocco and Japan next on her list.
With her extensive network of clients and resources, Gail is dedicated to providing a personalized, unforgettable real estate experience for each client she serves.