COMING SOON
Selling your home? Listing it early as a Coming Soon property on compass.com gives buyers and their agents a heads up that your home is about to hit the market. Drive interest with exclusive marketing and gain insights before officially launching.
Early to list. Early to sell. Only with Compass Coming Soon.
Increase exposure
Positioned on the Compass homepage and prioritized in search results, Compass Coming Soon listings are the first homes buyers see when they visit compass.com. Not only are these listings promoted site-wide, but they may be featured in both national and regional marketing campaigns at no extra cost to you.
Generate buzz
Compass Coming Soon allows you to bring your home to market sooner with differentiated print, digital, and social media marketing materials designed to pique buyers' interest. When it's ready to go live on the broader market, you'll have the opportunity to launch your listing for the second time, attracting even more attention.
Deliver market insights
Take advantage of the pre-marketing period by previewing your home to a high-interest audience as a Compass Coming Soon. It's the perfect time to assess pricing and gather buyer feedback - in most places, without accumulating days on market.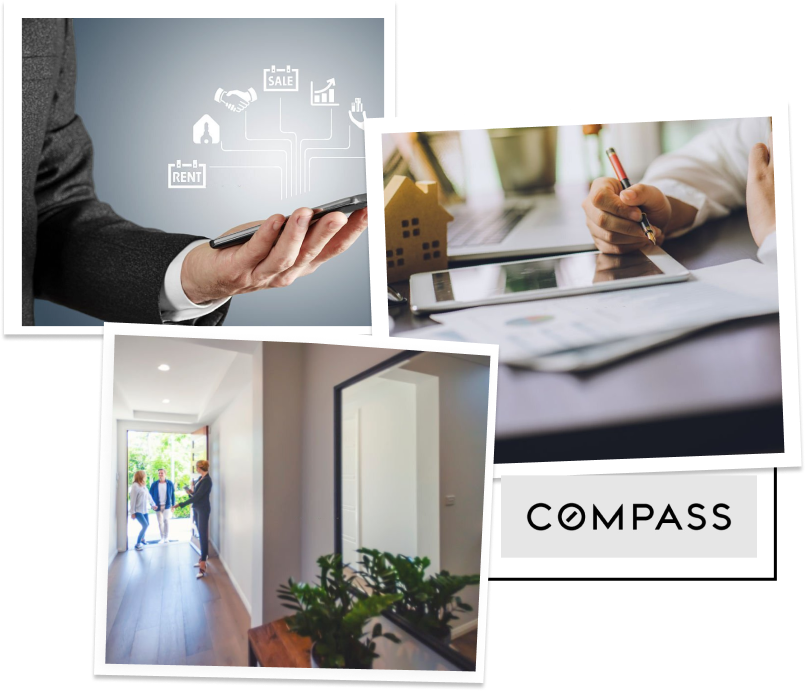 Success Stories
"The thing that was the most daunting for me about selling the home was how would I get it to market, based on being retired and have limited income. And that's where the Compass Concierge service was absolutely remarkable."
Julia, Seller | Oakland
Success Stories
"Compass Concierge was a true gift. Suddenly I had the finances to get my home of 18 years ready to sell, with no upfront cost to me. It ought to be called the 'Concierge stress relief program.' It exceeded all my expectations of the home-selling process."
Jo Ann, Seller | San Francisco Bay Area
Success Stories
"We've never heard of another firm offering this type of product. We found the service to be invaluable in terms of helping us accomplish really what we wanted to do."
Bill & Jill, Sellers | New York City
Success Stories
"We utilized both Compass Coming Soon and Compass Concierge to knock this sale out of the park. While the Coming Soon listing was spreading the word, we were busy upgrading, decluttering and staging the property at Concierge's expense."
Kristen Jock & Khashif Khan, Agents | Brooklyn
Success Stories
"Compass Concierge is very convenient. Even from Tokyo, I can easily manage everything... When I found Compass, I found a partner in design."
Koji, Seller | San Francisco Bay Area
Success Stories
"Concierge paid for staging, interior and exterior painting, and a big landscaping project... We had another real estate agent but she just didn't have the resources to make this happen. It just made the house look so beautiful, fresh and clean."
Christina, Seller | San Francisco Bay Area
Success Stories
"My clients lived in their home for 35 years, and it needed modernization to sell. Without Compass Concierge, the sales price and net proceeds would have been far lower."
Scott Perret, Agent | Seattle
Success Stories
"When we decided to sell and needed to get the best price possible, we were concerned our issues with the house would also be issues for potential buyers. Compass Concierge allowed us to address those final touches, and I am sure we made more because of it. The house sold quickly and we got above our target price!"
Sarah, Seller | Oakland
How does Compass Coming Soon work?
While your home is being prepped for market, your Compass agent will preview your property to buyers on compass.com
Your agent will develop a Compass Coming Soon marketing campaign featuring social media, emails, print materials, and more to drive the most traffic possible to your listing
Based on these efforts, your agent can identify the right audience for your listing and gain pricing insights
Then, once your listing prep is complete, your agent will create an official launch on the broader market designed for a faster, more profitable sale
Fill out the form below to learn more about Compass Coming Soon.
By clicking "Submit" you agree that Compass, its affiliates or associated third parties may contact you, including with calls or texts by automated means. You also agree to our Terms of Service and Privacy Policy. Message/data rates may apply. Consent is not a condition to access real estate services.