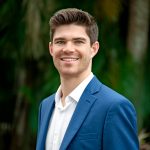 Jonathan Dunham
Real Estate Advisor
A little bit about me...
Jonathan Dunham is a dedicated and passionate Realtor with a keen eye for finance and a life-long love of real estate. He represents buyers, sellers, investors and renters throughout Palm Beach County, with a focus on luxury homes and condominiums in Boca Raton, Delray Beach, Highland Beach, Hillsboro and Deerfield.
Jonathan's love for the industry began at a young age, as he was fascinated by the different aspects of properties and would visit open houses with his parents to explore the architectural styles and interior craftsmanship. He pursued this passion and is now a Realtor who is committed to being the helping link to those looking for their place in the world. Jonathan's background in financial technology has given him a deep understanding of the financial aspects of the real estate industry, and he is currently pursuing his MBA at Lynn University, majoring in Financial Evaluation. As a Realtor, Jonathan is relationship-driven and committed to fulfilling his fiduciary duty to his clients by always putting their interests first. Helping people make one of the biggest purchases of their life brings him so much joy and excitement, and he is dedicated to ensuring that his clients feel comfortable and informed every step of the way.
With the support of the robust Compass technology and service offering, including state-of-the-art data and analytics software, renovations and staging programs, and a centralized messaging portal, Jonathan can streamline communication and multitask more efficiently, freeing up time to give back to his clients. He also utilizes Compass's contemporary marketing tools and proprietary tech platforms to generate more awareness, more accurate price points, and faster transactions than ever before.
In a continuously evolving and prospering market where the sun shines almost every day, Jonathan is eager to go the extra mile and bring his clients' dreams to fruition. A resident of Boca Raton, he enjoys going to the beach, spending time around town with friends, working out, and savoring the exceptional South Florida lifestyle.